La Petite Baraque
"Welcome Home"
Discover our new guesthouse in Ardennes, ideally located at the heart of the Belgian Woods, close to the ski slopes of the Baraque Fraiture and with a magnificent scenery.
Enjoy our beautifully renovated old stone house all year long with your family or friends.
Discover
Booking
"Welcome home" as you go through the door of our beautifully renovated old farm.
State of the art kitchen, a huge open fire in the living room, an outdoor sauna or a great terrace are only some of the features of this cosy house nested on the fringe of the village with a great view on the Belgian Ardennes.
The house accommodates comfortably 12 adults thanks to the 4 four bedrooms and the extensive 2 living rooms.

Family will especially appreciate the fittings (babyfoot, playstation, etc…), as well as the floor heated system on the ground floor, which is definitely enjoyable in winter.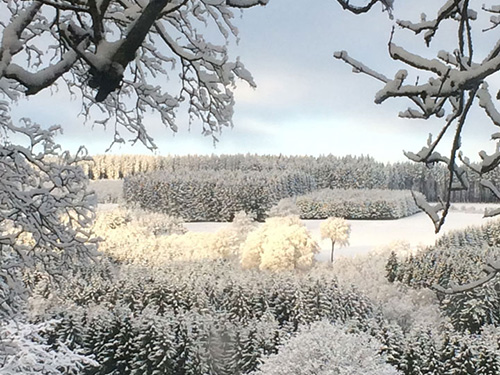 Authentic comfortable guesthouse in Ardennes
The house is located 3 minutes from the highway, close to the ski slopes of the Baraque Fraiture or several cycling tracks.
In winter, enjoy our private luge track 😉.
On the fringe of a environmentally protected area, the house is ideally located close to the Baraque de Fraiture pristine forest landscape. Pine forests, rivers, hidden lakes are home of a range of species (will you spot a deer or a beaver ?).
Several walking and cycling track starts there for all levels, whether you are only looking for a short stroll or a very challenging hike.
Discover the world longest underground river tour in the Remouchamps cave only 20 minutes away.
Discover the specialties of the Belgian Ardennes by visiting local breweries in the area. Taste typical Belgian fries and more elaborate dishes on a range of restaurants located less than 10 minutes away.
Ski (500m from the downhill ski slope, cross country skiing from the house), cycling (the house is officially approved cycle-friendly), kayak (La Roche or Nisramont are 20 minutes away) are only some of the sports which could be easily done in the area.
Tennis court could be available on request 5 minutes away.
Battle of the Bulges ("Bataille des Ardennes") is still a lasting memory in the village and in the surrounding areas thanks to the numerous memorials. Bastogne, and his famous museum and Mardasson, are only 20 minutes away.
Liège and its rich history are 40 minutes away.
What they say about our home

"U hoeft echt niet verder te zoeken …"
"dit huis voldoet aan alle comfort. Het contact met de eigenaars is uitstekend. (Wonen naast de woning) u krijgt heel snel antwoord als u per mail een vraag stelt."
Ad. – Dec 2019

"Nous avons passé un superbe weekend entre amis dans cette magnifique maison! Elle est parfaitement équipée et gros plus, le sauna privée dans le jardin. Elle se trouve dans un beau village au milieu de la nature."
G. – Nov 2019

"garantie de séjour réussi"
"Ce gîte est à lui seul presque une garantie de séjour réussi !"
L. – Oct 2019

"A great place to fully relax with your friends or family"
"We had a fantastic stay here with a group of friends in August. The house is situated at the edge of small rural village and has a great garden overlooking the landscape. The house has an antique feel but is furnished very modern and stylish yet functional."
B. – Aug 2019.
Decoration and settings may change depending the seasons !
Don't wait and book your stay with us…
2-nights week-end (Friday to Sunday) starts at 850€ (low season). Monday to Friday starts at 600€.
Check the price and the availability and book directly using the calendar on this page or contact us directly for any questions you may have.
Contact us…
Don't be shy. Let us know if you have any questions. Use the tool to check price and availability.
EMAIL
info@lapetitebaraque.be
…or leave us a message !
Don't be shy. Let us know if you have any questions.